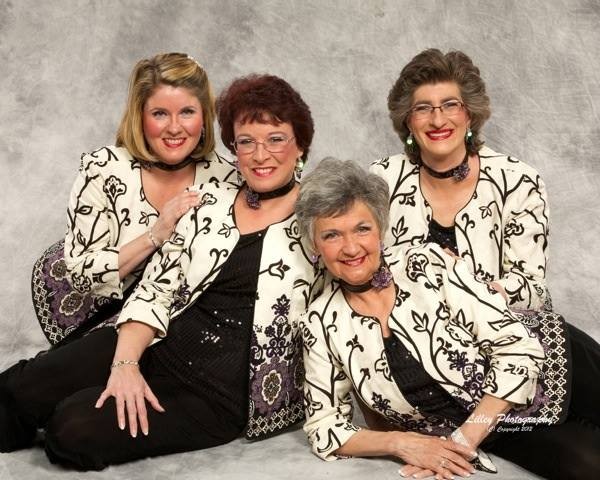 Sound Scape Quartet shares the magic of 4-part a cappella harmony - since 2007.
They frequently conduct music education workshops for local schools, Girl Scouts and other community organizations.  They have created programs for preschoolers, memory care patients, professional women's organizations and autistic teenagers.  They have worked with NH Girl Scouts to help the girls earn the new Young Women in Harmony badge.  In 2015, they were recipients of the Spirit of New Hampshire Award for volunteer service to the community. In 2017, they performed on stage at the Capitol Center for the Arts in Concord NH, as part of Voices of the (603)  - a day-long a cappella festival for middle- and high school a cappella ensembles. 
---
Mary Sobolewski, Lead
Mary has 23 years of experience with Sweet Adelines International, singing lead with the Merrimack Valley Chorus. Mother to an active 13-yr-old, Mary is a competitive runner and du-athlete and has been a financial services professional for 25 years.
Nancy Clark, Baritone
Nancy has been involved in Sweet Adelines for 33 years.  Now retired after a career as Director of Nursing, she has found a new passion and involvement in the Life Long Learning program at her local college, serving as a seminar leader and participant. She loves singing with her quartet and chorus.
Lisa Makus, Tenor
Lisa has been singing with Merrimack Valley Chorus since 1998 and SoundScape since 2012.  She is a Marketing Specialist for a leading semiconductor company and mom to a busy 11-year old daughter.  She loves relaxing by the ocean or campfire.
Carol Smolenski, Bass
Carol is the associate director and bass section leader for the Merrimack Valley Chorus, and has been a Sweet Adeline for 24 years.  She gives private vocal lessons and coaches vocal ensembles with the Merrimack Valley Community Music School.  She is a former science museum educator, and is returning to graduate school to pursue a master's degree in music therapy.