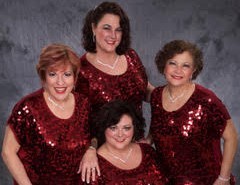 Diane and Bev have been quartetting together since the Fall 0f 2012, when Leading Ladies was born with Eileen Gioe (Bari) and Terri Sherman (tenor).  We have since been fortunate enough to acquire Patti and Kimberly to fill out the baritone and tenor vacancies in 2016 and 2017.  As a quartet, we've consistently placed among the top 10 in Region 1, garnering a 4th place medal in the last two contests.  Our goal is to improve our skills and ability to entertain our audiences.  We live relatively close to one another, spread from Nashua, NH to Haverhill, MA, and in between.  So meeting weekly to rehearse is not so difficult for us.  We love performing and singing 4-part harmony together, and especially love coaching with some of the best barbershoppers in the world!  Our bottom three voices are all members of Merrimack Valley Chorus, and are relentless about reminding our tenor how nice it would be if she would also join our chorus!
Please visit (and LIKE) our Facebook page at Accidental Charm Quartet to see current and upcoming events ...or just to say "hello".
---
Kimberly Petersen (tenor)
Kimberly sang tenor with Liberty Belles (now Boston Skyline) for five years (2000-2005). She was lead in Finesse Quartet (2002-2004), and tenor in some pick up quartets before putting aside her singing pipes to focus on raising a family (3 kids) and work. She welcomed music back in her life near the end of 2016 and is so grateful to be singing tenor with Accidental Charm.
Diane Kelley (lead)
Diane joined Merrimack Valley Chorus in 1997 as a tenor. She sang in Deja Nu Quartet from 1997-2000. Her job brought her to Maryland in 2000 where she began singing lead with Harbor City Music Company and Greater Harrisburg Choruses, participating in several International contests from 2002-2010.  During that time she sang lead in quartets Coda Chrome, TAG, and Region 19's Quartet Champions, The Fource, which competed at the International level in 2007-2009. She relocated back "home" and rejoined Merrimack Valley chorus in 2010 and began looking for her next quartet.
Patti Newman (baritone)
Patti has been singing since before she could talk. Throughout her school years, she was a featured soloist, and in high school sang in her church's folk group and a rock band. She credits her love for harmony to spontaneous singalongs at family gatherings, as well as the rich classic rock of the 60s and 70s, often creating a part to fill in what was missing — a true baritone! Patti joined Sweet Adeline's in 1989 and sang with the Liberty Belle Chorus for 24 years, as well as a few quartets, including the 2014 Region 1 Champs Full Throttle.  In 2016 she joined Accidental Charm and eventually the Merrimack Valley Chorus in 2017.
Beverly Barteaux (bass)
Bev has been singing barbershop since she fell in love with the art form in 2000.  She sang lead for more than 10 years before finding her true home in the bass part.  Bev has sung in several quartets over the years and has been the bass for Accidental Charm for 6 years!
Awards and Achievements:
April 13, 2018: 4th Place, Sweet Adeline's Region 1 Quartet Competition, Springfield Symphony Hall, Springfield, MA
Recent Performances:
April 28, 2018: An Evening of Harmony Show in Quincy, MA along with Synchrony Quartet (SAI Region 1) Vocal Revolution, BHS NED chorus and current "Sing That Thing" Champs
April 8, 2018: Vocal Revolution Quartet Showcase (Quartet-a-Palooza)
March 25, 2018: Boston Flower and Garden Show, Boston Seaport Hotel and Conference Center
March 24, 2018: Quartet Showcase sponsored by BHS NED at the Edith Nourse Rogers Memorial Veterans Hospital, Bedford, MA
March 10, 2018: Exeter, NH Arts Committee Youth Art Show