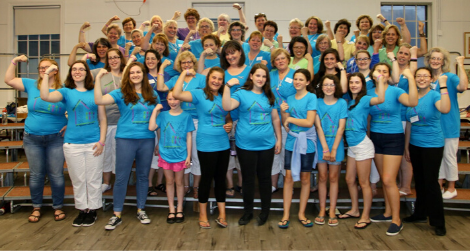 Merrimack Valley A Cappella Chorus is a music education organization that is passionate about sharing the art form of Barbershop singing with young women!
Join MVA this summer for its Young Women Singers Summer Workshop! The Workshop will be led by MVA chorus directors who will teach vocal production and performance enhanced singing. Young women ages 13 – 25, will learn 2 songs in four-part harmony. MVA chorus members will also learn the 2 songs, and participants will have the unique experience of singing with the Merrimack Valley A Cappella Chorus. On the final evening of the workshop, friends and family will be invited to a performance.
Workshops will occur once a week on Thursday evenings in Wilmington, beginning June 20 through July 18 (no rehearsal July 4). There is a one-time, refundable deposit of $15. 
Please email Patti Newman and Linda Green at [email protected]merrimackvalleychorus.com with questions.
Merrimack Valley A Cappella Chorus (MVA) is a music education organization, a chapter of Sweet Adelines International, and Sweet Adelines Region 1. MVA is inspired by the SAI Region 1 Young Women in Harmony programs; and is thrilled to be hosting a workshop for young women singers this summer!